Digital Gandharan Texts: a special seminar by Mark Allon and Ian McCrabb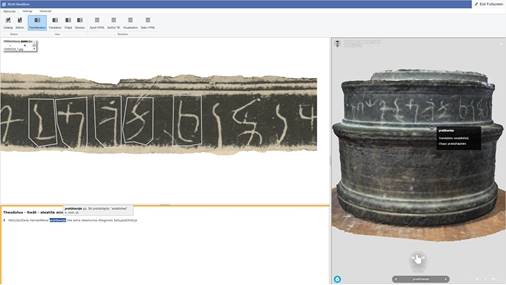 Join us on Zoom at 09:00 GMT on Tuesday 8th March 2022 for a special seminar by Prof Mark Allon and Ian McCrabb of Sydney University, Australia: Digital Gandharan Texts – The Digital Framework for the Research and Publication of Gandhari Manuscripts and Inscriptions. Allon and McCrabb will introduce their exciting project to document and disseminate Gandharan texts and artefacts.
In conjunction with Gandhara scholars from the University of Washington (UW), Australian National University (ANU), Wilfred Laurier University, and other universities, Mark Allon and Ian McCrabb, both at University of Sydney (USYD), are leading the development of a digital framework (platform and methodology) for the collaborative research and publishing of Gandharan manuscripts and inscriptions, the foundation for their digital repatriation to the communities from which these important cultural artefacts originate. This presentation will give an account of these digital developments and digital repatriation strategy and their importance to the field of Gandharan studies. 
Mark Allon is Chair of the Department of Indian Subcontinental Studies at the University of Sydney. His primary research interests are the composition and transmission of early Buddhist literature, the ways in which texts have been used by Buddhist communities, and the Indic languages of early Buddhist texts (Pali, Gandhari, Sanskrit). He runs projects in Myanmar concerning Pali inscriptions at the Kuthodaw Pagoda, Mandalay, and in Pakistan concerning Gandhari manuscripts. He is part of a team of scholars and digital humanists at the University of Sydney, Australian National University, University of Washington, Stanford University and elsewhere developing digital capacity for the publication and study of Buddhist manuscripts and inscriptions, particularly those in Gandhari, Pali, and Sanskrit, e.g. Gandharan Buddhist Texts and the Journal of Gandharan Buddhist Texts. 
Ian McCrabb is the founder and managing director of Systemik, a Sydney based IT consulting group.  Systemik supports a portfolio of commercial and open-source humanities research platforms clustered around content transformation and text analysis.  Ian is the founder and director of Prakas Foundation, a non-profit association which supports digital scholarship in Buddhist studies and Sanskritic languages.  Prakas provides strategic planning and program management for platform developments.  His dissertation Buddha Bodies and the Benefits of Relic Establishment: Insights from a Digital Framework for the Analysis of Formulaic Sequences in Gandhari Relic Inscriptions was focussed on the ritual practices and religious significance of relic establishment in Gandhara.

To book a place for free, please just email us: carc@classics.ox.ac.uk
A Zoom link will be send to those who have booked nearer the time. A recording of the event will go online afterwards.
Click here if you would like to be updated about other events supported by the Bagri Foundation.