Cast Gallery catalogue number: D058a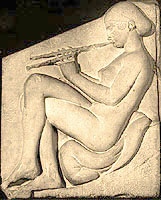 Naked flute-girl playing, seated on a cushion.
Left side of a three-sided relief. For the front see D058b; for the right side see D058c.
Plaster cast: Height: 86cm, Width: 68cm.
Copy of part of a marble relief.
The relief:

is known as the Ludovisi Throne.
was made about 460 BC.
was found on the Villa Ludovisi estate in 1887.
is now in Rome, Museo Nazionale delle Terme, inv. 8670.

The purpose of the relief is unknown. It may have edged an altar, but not a throne.