Cast Gallery catalogue number: C197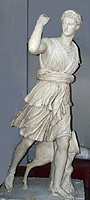 Artemis as huntress. She springs forward, while twisting to pluck an arrow from the quiver at her right shoulder. A stag runs at her left side.
Plaster cast: Height: 2.12m.
Copy of a marble statue.
The statue:

is known as the Artemis of Versailles.
is a version of a Greek original of the late 4th century BC.
was known in 1586 at Fontainbleau.
is now in Paris, Musée du Louvre, 589.
Look at casts showing Artemis